Medical Credentialing Services
Credentialing is how a healthcare facility verifies the qualifications of the prospective medical practitioners they want to hire. It's a system of proving to medical organizations that you, as a healthcare provider or network of practitioners, have the necessary licenses, certifications, and training to provide your patients with proper medical care. It also gives patients the reassurance they need to know that they are dealing with a healthcare practitioner who's certified, licensed, and equipped with the latest knowledge.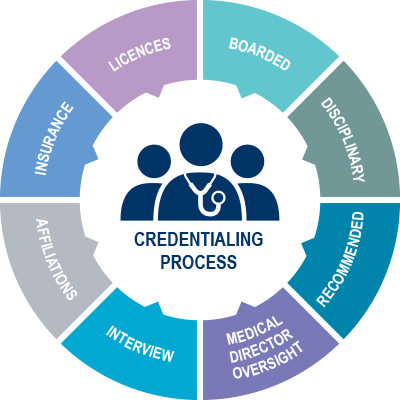 The Importance of Credentialing.
Delays or lapses in the credentialing process can cause reimbursement to be delayed or even denied. Provider credentialing is an important but arduous process that benefits from an experienced professional who understands the how it works.  Trying to understand and manage credentialing is a tedious and time-consuming endeavor that rapidly consumes staff resources.  Our team at Telaka Health can take care of every step of the credentialing process in a timely manner.
Our professional credentialing services providers are here to help you through your revenue cycles processes and identify the missed cash-flow opportunities so that you don't face issues during the reimbursement process.
Moreover, our medical credentialing services for physicians also include an actionable guide that will help you with reducing A/R days while improving the patient experience. Our goal is to identify the causes behind ongoing billing issues and then work on the immediate impact that it has on your healthcare facility while driving a blue map to help you grow and prosper.
We provide custom credentialing solutions that can be tailored to your needs and price points.
We are fully HIPAA compliant, using secure systems and technology to insure complete privacy of your information.
Lorem ipsum dolor sit amet, consectetur adipiscing elit. Ut elit tellus amet
Lorem ipsum dolor sit amet, consectetur adipiscing elit. Ut elit tellus amet
1222 Professional Blvd Suite B